Songs, auction items, food and fun at June 3 WRS Pops Concert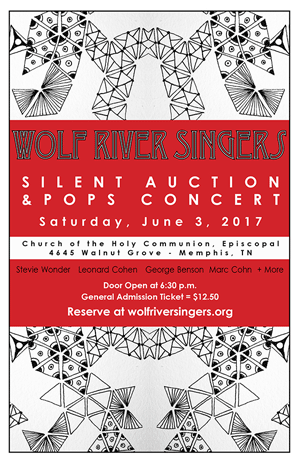 Get ready to sing along with your favorites at the annual Wolf River Singers Pops Concert / Silent Auction on Saturday, June 3 at Church of the Holy Communion, Episcopal. Doors open at 6:30 p.m. to enjoy some complimentary desserts and beverages as you place your bids on bargains from the many great auction items on the tables.
If this wasn't our most fun-filled concert, we might be calling this year's event a requiem. We throw out some homage to some late-greats.
Three songs are a tribute to the late Leon Russell: This Masquerade; A Song for You; and Superstar. Russell wrote Superstar with Bonnie Bramlett. It's about a woman — a groupie — who falls for a rock star, spends the night with him and believes he truly meant he loved her and will return. Delaney & Bonnie recorded it first, followed by Rita Coolidge's version on Joe Cocker's popular Mad Dogs and Englishmen tour. The Carpenters recorded the most successful cover after changing the controversial lyrics to "I can hardly wait to 'be' with you again." We perform Greg Gilpin's arrangement.
Russell wrote This Masquerade and included it on his 1972 album, Carney. The song was also recorded by The Carpenters but it was George Benson's 1976 version that put the song in the top 10.
A Song for You was included on Russell's first solo album, released in 1970. It's probably one of his best-known pieces and has been covered by more than 20 top artists from Peggy Lee and Whitney Houston to Amy Winehouse and Willie Nelson.
We couldn't let this concert go by without remembering the late Glenn Frey with Seven Bridges Road, a song we performed a few years ago. Although the song was written by Steve Young, and our arrangement is by Philip Lawson, it is forever linked to the close harmony of the Eagles. The group used the song for a long time as a pre-concert warm up, singing it a cappella in backstage locker room showers before going onstage. It was included on the Eagles Live album. Fun fact: the Eagles have never made an endorsement deal or allowed their music to be used for commercial purposes.
What can you say about Leonard Cohen that hasn't been said? On his death in 2016 at age 82, Rolling Stone called him a "hugely influential singer and songwriter whose work spanned nearly 50 years." Even though no one can hear Hallelujah, a hauntingly beautiful song, without thinking of Cohen, his version released in 1984 had very little commercial success. It was only through cover versions — more than 300 — and film and TV soundtracks that it became popular.
After Cohen's death in November 2016, the song saw some renewed popularity and actually made to the American Billboard Hot 100 for the first time. We've done the song in several concerts but had to bring it out again to pay tribute to Cohen with this arrangement by Roger Emerson.
We also include a piece by another Cohn — this one still alive — as we perform Walking in Memphis by Marc Cohn (arranged by Mark Brymer).
A big part of the concert set list will take some of you back a few years – Dedicated to the One I Love; Stevie Wonder's Don't You Worry 'Bout a Thing; Since I Fell for You; and Never My Love.
If you're a faithful WRS follower you'll know we've done a few pieces by Norwegian composer Kim André Arnesen. He is mostly known for his choral compositions, both a cappella and large-scale works. WRS performs Flight Song, which was written as the composer's gift to Dr. Anton Armstrong and the St. Olaf Choir.
Take Me Home, another arrangement by Roger Emerson, was performed by Pentatonix
Director Ben Legett continues a "Finding Our Way" theme during this concert season that began with the March 2016 concert. In March that theme continued with "Staying Connected." We end the June 3 concert with a song from the March concert — Brian Tate's Connected — that perfectly sets up our connection with you, the audience.
The Singers send out a big thank you to "Nothing Bundt Cakes" on Poplar for providing the delicious bundt cakes for the event. There will be a fruit bowl and other treats on hand.
Put June 3 on your calendar right now — we'll see you there!